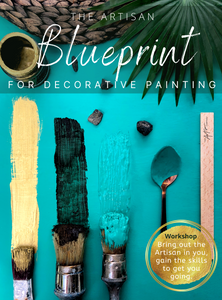 Group bookings are available if different dates and times are more suitable.   If you would like more information email us at info@rockmerevamp.co.nz
The Blue print for Decorative Painting 3-3.5 hours $120
If you are wanting to paint furniture and don't know where to begin, then this may be the workshop to help you get started.
The Artisan Company "Blue Print" workshop is a hands-on workshop, which will run for 3 – 3.5 hours approx. and taken from an interior design approach discussing colours and pairings. Designed to inspire, fill you with the ideas, confidence, technical knowledge, the know-how and tips on how to transform your furniture and space harmoniously through our amazing paint system that requires no sanding or priming and provides a wide creative scope for you and your home.  It's a hands-on introductory workshop where you'll be painting and creating decorative finishes all the way through... great for those who have just started painting and perfect for those who have never painted before.  Even great as a refresher if you have painted before.
The workshop covers all the fundamentals of decorative painting to create your beautiful space:
How to complete a modern finish
How to layer colours over each other
How to a create soft restful finishes 
Creating an aged and rustic finish
How to use and create with metallic
Coloured waxes and coloured glazes
How to create age & patina 
Accentuate and bring out detailing out of a piece of furniture
Creating a robust surface for pieces like the dining or coffee table
Understanding the make-up of the paint system and how to manipulate to create your perfect finish
It's everything you need to know to paint up a storm and transform your home and no experience necessary! in fact if you haven't painted, even better! 
All materials and tools will be provided within the workshop so you just need to bring yourself and an open mind. 
Completing a workshop with Rock Me Revamp is where it all starts, after the workshop you will have access to ongoing support, you will also have access to an exclusive and private forum for around the clock continuous support and inspiration.  

Booking is easy, simply select and add to cart, make an online payment to secure your place. Alternatively, you can book in store at Rock Me Revamp, 83 Arawa Street, Matamata.

Classes are run in groups of 4 for the optimum learning experience. Book early to avoid disappointment. All workshop attendees will have access to an exclusive 10% of paint and paint supplies on the day.
Please choose your dates carefully as paint classes are non-refundable.  
Date: Saturday 20th January 2024
Time: 9.00am until 12.30pm (end time may vary) - Shop will be open from 8.30am
Location: Instore at 83 Arawa Street, opposite Countdown, Matamata