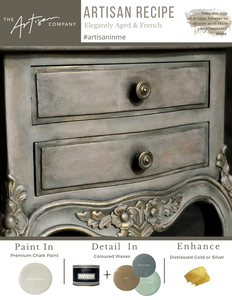 A lovely aged french style finish with a great balance of being both rustic and elegant. Completed in a beautiful Artisan Neutral & coloured waxes. Recreate the look with our Artisan Recipe which you can download below. 

What you will need 
1 Litre Imperial Linen Premium Chalk Paint 
1 Stormy Creek, 1 Duck Egg, 1 Tahr Premium Chalk Paint (all in 120ml) 
Metallic Gold gilding wax (optional) 

Method 

Painting:  
Paint 2 coats of Imperial Linen with a Staalmeester Series 2020, Pro hybrid size 18
brush paint in all directions, loading generously then spread out. On the second coat brush in all directions in areas that need filling. 

Coloured Waxes: 
Mix your coloured waxes Approx 1:1 Artisan Clear wax with Tahr and brush over using your Staalmeester Pure Bristle brush in large areas then wipe excess with a lint free rag.

Mix your following Stormy Creek coloured wax;  this time make it a bit stronger in Chalk Paint approx 1 and a 1/2 Stormy Creek to 1 wax apply in selected areas only and blend out with Staalmeester Pure Bristle brush lightly wipe off excess with lint free rag.

Mix your Duck Egg coloured wax (same strength as above) and brush over in areas using your pure bristle brush and lightly wiping excess off with a lint free rag. 

Highlight and Pull Back
Steel Wool in selected areas to bring back Imperial Linen allowing coloured waxes to gather and build up around the edges and in between brush strokes.

Detail and Enhance with Metallic Gold gilding on edges (optional) 

TIP: Depending on the room you are painting for, swap out Duck Egg for you interior accent colour e.g. if you are doing it for a bedroom with blue cushions, use a blue in the Artisan range as your coloured wax.  Use a metallic to suit this finish will work well with both gold, silver and champagne gold.
Download The Artisan Recipe by clicking here