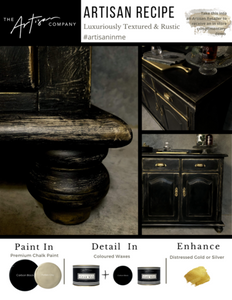 Dark and Moody, textured and rustic is this recipe, great for creating that feature character piece. A great recipe for those stand-alone pieces like a sideboard, hall table or something you want to add a bit of character and charm too.

What you will need 
1 Litre  Carbon Black Premium Chalk Paint 
1 Litre Potters Clay
Artisan Clear Wax 
Artisan Dark Wax 
Metallic Gold gilding wax (optional) 

Method 

Painting:  
Paint 1-2 coats of Potters Clay with a Staalmeester Pure Bristle brush, load generously and vigorously brush the paint in all directions, then as the paint is drying come back and brush over again as you go to create lots of rustic texture and leave to dry.

Water down the Carbon Black by approx 15-20% then lightly brush over the coat of Potters Clay (this doesn't need to be full coverage) A thin layer of Carbon Black is all you need. Leave to dry. 

Lightly sand selected areas with 240 grit sandpaper to bring out the underlying texture and Potters Clay. Only gentle pressure is required as there is only a thin layer of Carbon Black. 

Waxes : 

Apply dark wax in sections and wipe with lint free rag. 

Mix your coloured wax Approx 1:1 Artisan Clear wax with Carbon Black  and brush over in areas to detail,  darken and shadow.. 


Enhance: 

Detail and Enhance with Metallic Gold gilding on edges (optional) 

TIP: Ensure there is a nice layer of Potters Clay before you move onto the Carbon Black. The beauty of this finish is nothing is even and everything is imperfectly perfect so allow yourself to get creative. If at anytime you have sanded too much Carbon Black back, just reapply your diluted Carbon Black over the areas. This will blend back perfectly given the rustic nature of this finish.
 Download The Artisan Recipe by clicking here