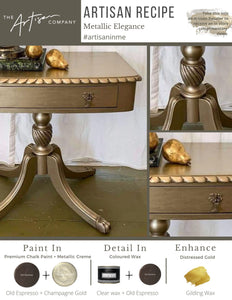 A stunning warm metallic finish with  depth, made possible with the Artisan Company Metallic Alchemy range. A modern reflective champagne hue, complemented beautifully by the Old Espresso coloured wax, adding a sophisticated and complex edge, to a soft and beautiful finish.

What you will need: (sized subject to the type of project)
Old Espresso Premium Chalk Paint 
Champagne Gold Metallic Creme 
Artisan Clear Wax
Staalmeester Series 2020 Pro hybrid size 18
Series 1060 Spalter brush
Series 3600 Natural bristle brush
Lint-free rag

Metallic Gold gilding wax (optional) 

Method 

Painting:  
Spread out 1 coat of Old Espresso Premium Chalk Paint in all directions, loading the paint on your brush generously. With your size 18 brush, make sure you achieve good coverage on the first coat. Once dry, if there are any areas that have not been covered, lightly feather the paint over those areas.

Once dry lightly sand any unnatural textures ensuring you allow the brush strokes and subtle texture to remain. 

Metallic Creme:
Using your Spalter brush, pick up your Champagne Gold Creme and brush out, every now and then taking the pressure off your brush to feather and blend any visible brushstrokes for a more flawless finish.
 
Waxing:

Mix your Old Espresso Premium Chalk paint and Artisan Clear wax together in a 1:1 ratio, in sections, apply the coloured wax in the corners and details you would like to add subtle age and depth. Lightly wipe and blend away the excess wax with a lint-free rag. This will allow the coloured wax to sit only in the dips, brush strokes and crevices of your metallic paint finish.

(optional) Enhance further by running gold gilding wax along fine edges and bevels with your finger.
 
TIP: 
Spalter brushes are designed to work in with our Metallic Alchemy range and are available in different sizes to allow you to create beautiful, flawless metallic finishes.
Download The Artisan Recipe by clicking here