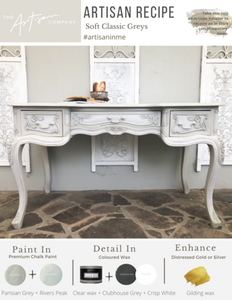 This soft tonal grey paint recipe is a great one to head for if you are after a soft restful neutral, easy to fit into the home and also a great recipe for bedroom furniture.  a little coloured wax on this creates a beautiful depth on the greys adding character and interest.

What you will need: (sized subject to the type of project)

Carbon Black Premium Chalk Paint
Pewter Metallic Creme 

Artisan Clear wax
Staalmeester Series 2020 Pro hybrid size 18
Series 1060 Spalter brush
Series 3600 Natural bristle brush
Method 

Painting:  
Choose selected areas on your piece to paint in Parisian Grey and areas where you want to paint in Rivers Peak to create a two tone finish, load generously and brush out, using your staalmeester pro hybrid brush and your staalmeester angled brush for precision where the two greys meet. 

Waxing:
Mix your Crisp White coloured wax and brush out in sections, then lightly feather, blend and wipe excess wax off with a clean lint free rag. Repeat until you have covered the entire piece. 

Mixing a slightly stronger coloured wax in Clubhouse grey, brush onto your selected areas and wipe / blend back with a clean lint free rag.

TIP: 
Use triple 0 fine steelwool to blend coloured waxes or apply a little clear wax to remove /blend coloured waxes and highlight. Tone on Tone works well on pieces like a bedside , drawers or sideboard where you do the body/ frame in one tone and the drawers in another...

Download The Artisan Recipe by clicking here