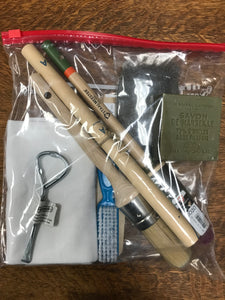 This bundle of products is the perfect way to get started on your painting joinery.  It has everything to get you on your way and you can add to this collection at any stage to grow your tool selection. 
Included in the starter kit
1 x 18 ProHybid Round Brush - This is the go to brush for painting as it allows for corner perfect painting with no drips or runs.  
1 x Pure Bristle Brush - This is the go to wax brush or paint brush which will create texture and interest when you don't want a flat finish look.
1 x bar of French Olive soap - This soap is perfect for cleaning your paint brushes and wax brushes.  Leaves the bristles clean while conditioning them to keep them in perfect condition  (This soap can also be used for hand washing, cleaning floors, walls, and hands)   This gentle soap is a must have in any house.  
1 x Super Fine Steel Wool - This is a must when waxing to pull back the wax to the level of detail required.  
1 x piece of 240grit sandpaper  - as you don't need to sand your piece back with the Artisan paint range, sandpaper is great to creative the distressed look. 
1 x scrubby brush - this little brush if perfect for brushing dust and grime out of any details of the furniture piece.  especially good for carved details.  
1 x Paint Tin Opener -  this is a must if you are wanting to look after your paint, this little tool will not damage the rim of your paint tin and will allow you to put the lid back on every time for the perfect seal which means your paint will not dry out.  
2 x stir sticks - the square bottom allows you to get to the bottom edge of the tin to get the perfect mix of the paint every time.  
2 x wax sticks - great for mixing coloured wax ever time.   
1 x bundle of clean lint free rags - for wiping back wax once applied with a brush.   Also great for shining and polishing the wax once dried