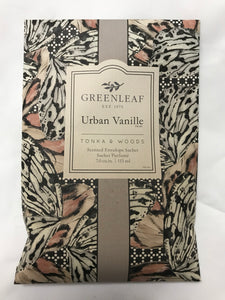 Fragrance: Urban Vanille 
Fragrance Family: Sweet and Spicy
Fragrance Description: Warm and familiar, but with a touch of something exotic, this delicate fragrance is filled to the brim with cozy notes of cinnamon, tobacco leaf, cedar, and vanilla.

Place your sachet in a closet, under the seat in your car, under your sink, or anywhere else you'd like a touch of fragrance.
SpecificationsVolume:
7 cu.in.
Product Size:
12cm width, 17cm length