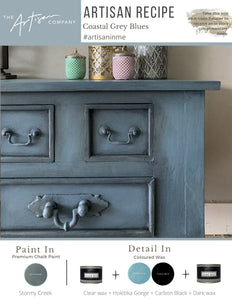 This paint finish evokes a beautiful fusion of both strength and calm. Soft and moody, we picture this restful paint finish sitting in a little beach shack along the coast. Sitting underneath the beautiful depth of the Carbon Black coloured wax are the soft and moody blues of Stormy Creek and Hokitika Gorge. The combination of these lovely colours would also look great as a textured rustic finish.


What you will need: (sizes dependant on the project)
Stormy Creek Premium Chalk Paint

Hokitika Gorge Premium Chalk Paint
Carbon Black Premium Chalk Paint
Artisan Clear wax 

Artisan Dark wax
Staalmeester size 18 brush 

Natural bristle brush
Lint-free rags
Optional: gold or silver gilding wax

Method 

Painting:  
Paint in all directions with your Stormy Creek Chalk Paint using a Staalmeester Series 2020 Pro hybrid size 18 brush. Loading the paint on your brush generously then spreading out the paint out.
Once dry if a second coat is required apply the second coat by brushing in all directions in areas that need filling. 

Once dry, lightly sand any unnatural textures ensuring you allow the brush strokes and subtle texture to remain.

Coloured Waxing: 
With a little bit of Artisan dark wax on your natural bristle brush, in sections, brush in all directions over the top of your Stormy Creek paint finish. Gently wipe off the excess Clear wax with a lint-free rag.
Hokitika Gorge Coloured wax:
Mix your Artisan Clear wax and Hokitika Premium Chalk Paint in a 1:1 ratio of strength. Pick up a small amount on your natural bristle brush and apply it in sections in the areas you wish to highlight. Gently wipe off the excess wax with your lint-free rag and continue onto the next section. 
Carbon Black Coloured wax: 

Use the mixing ratio as stated above to mix your coloured wax. Pick up a small amount on your natural bristle brush, brush out in the corners and details to create shadowing, age and depth, lightly blending out as you go, to create further depth and mood. 
TIP: as you layer one wax over the other, mix and make the ratio stronger and stronger, the stronger you coloured wax is the smaller the section in which you will apply before wiping back. 
Download The Artisan Recipe by clicking here