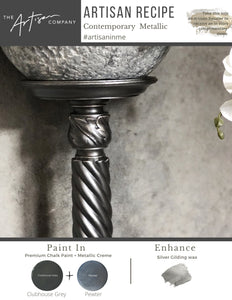 There's something chic, contemporary and cool with Artisan Pewter Metallic and can add a nice balance and juxtaposition to those pieces that are a little more classic & vintage. Also a great finish for a more industrial look and not limited to just furniture but also decor, an artisan Pewter finish is so much easier to achieve than it looks we've taken all the work out of it so that creating a Pewter finish with beautiful depth and lustre is as simple as two steps.

What you will need 
1 Litre Clubhouse Grey Premium Chalk Paint  
Artisan Pewter Metallic Creme 
Staalmeester Spalter Brush 
Optional: silver gilding wax

Method 

Painting:  
Paint in Clubhouse Grey Premium Chalk Paint with a Staalmeester Series 2020, Pro hybrid size 18  Brush paint in all directions, loading generously then spread the paint out.  If a second coat is required apply  the second coat by brushing in all directions in areas that need filling. 

Once dry, lightly sand any unnatural textures ensuring you allow the brush strokes and subtle texture to remain.

Artisan Pewter Metallic Creme : 
Using your spalter brush pick up your Pewter Creme and brush out, every now and then taking pressure off your brush to feather and blend any visible brushstrokes for a more flawless finish
 
Detail & Enhance
(optional) Enhance further by running silver gilding wax along fine edges and bevels 
 
TIP: Remember to always base coat with Premium Chalk Paint first. A Staalmeester spalter brush is a great tool and makes working with metallics effortless and is highly recommended for metallic finishes. 
Download The Artisan Recipe by clicking here