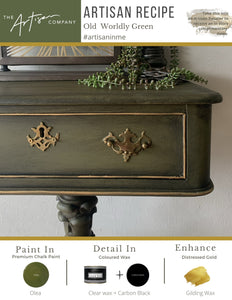 Deep Dark & Green. A beautiful rich recipe ideal for those feature pieces. A versatile finish in green that can sit in both classic & contemporary spaces and so simple to do. 

What you will need 
1 Litre Gretel's Forest Premium Chalk Paint 
120ml Carbon Black Premium Chalk Paint 
Artisan Clear Wax 
Artisan Dark Wax
Metallic Gold gilding wax (optional) 

Method 

Painting:  
Paint in Gretel's Forest with a Staalmeester Series 2020, Pro hybrid size 18
brush paint in all directions, loading generously then spread the paint out. If a second coat is required apply  the second coat by brushing in all directions in areas that need filling. 

Once dry, lightly sand any unnatural textures ensuring you allow the brush strokes and subtle texture to remain. 

Waxing : 
Carbon Black Wax :
Mix Carbon black and clear wax together to create your Carbon Black Wax, Brush over your Gretel's forest paint finish in sections then wipe excess with lint free rag. 

Dark Wax: 
Apply Dark wax in selected areas to create a warm patina and lightly wipe and blend excess off with lint free rag.
Detail & Enhance
(optional) Enhance further by running gold gilding wax along fine edges and bevels 

TIP: Gretel's Forest will change and deepen after applying your dark waxes, if it has gone too dark and you have lost the colour, then apply clear wax in areas using your pure bristle brush in circular motions to loosen the dark waxes then wipe firmly with lint free rag to remove dark wax in areas and to bring out the colour again.

Download The Artisan Recipe by clicking here