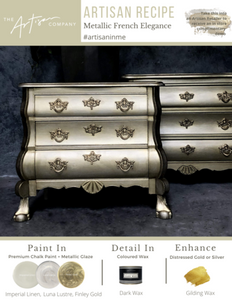 A beautiful metallic finish with a complex look and depth made easy with The Artisan Metallic Alchemy range, creating a sophisticated metallic finish with depth, interest and character. 
What you will need 
1 Litre Imperial Linen Premium Chalk Paint 
1 Finley metallic gold glaze, 1 Luna Lustre metallic glaze 
Artisan Dark Wax
Metallic Gold gilding wax (optional) 

Method 

Painting:  
Paint 2 coats of Imperial Linen with a Staalmeester Series 2020, Pro hybrid size 18
brush paint in all directions, loading generously then spread the paint out. On the second coat brush in all directions in areas that need filling. 

Once dry lightly sand any unnatural textures ensuring you allow the brush strokes and subtle texture to remain. 

Metallic Glazes : 
Luna Lustre :
Brush on your Luna Lustre Glaze over your Imperial Linen, remember that the more you pick up on your brush the more "playtime" you will have. Brush the glaze backwards and forwards over Imperial Linen with your Spalter brush until covered/ even. At this point is should provide a beautiful shimmer over your project. 

Finley Gold Glaze:
Brush over your Finley Gold glaze backwards and forwards to give it some air time, do this in sections (eg: an entire drawer) then lightly rag with a lint free rag which will make it dry almost instantly. By ragging you will be able to see the luna Lustre through the Finley gold. Steel wool if you want to see more of the Luna Lustre or if you want to enhance the texture before it completely sets.  
 

Detail & Enhance

If you would like to provide some age to the look, apply dark wax in corners and areas where you would like a patina and lightly wipe and blend with a lint free rag. This will stain both metallic glazes. 

(optional) Enhance further by running gold gilding wax along fine edges and bevels. 
 

TIP: The more glaze you pick up on your brush the more "play time" you will have. The less you pick up the less "playtime" therefore pick up an amount on your brush that is suitable for the section you are doing. 

Spalter brushes are designed to work in with our metallic glazes and are available in different sizes to allow you to create beautiful flawless metallic looks.
If you prefer a more refined look solid metallic look, leave out the steel wool process, as this will provide a slightly worn metallic look as well as enhance the subtle texture on the piece. 
 Download The Artisan Recipe by clicking here