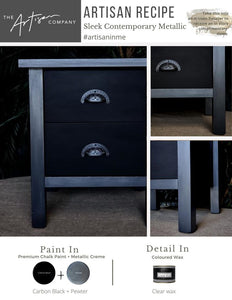 A great paint recipe for those looking to create a luxe modern contemporary look. The Metallic Creme is highly reflective creating a beautiful pewter finish paired with Carbon Black making it sleek, chic and completely bespoke. The drawers have been painted in Carbon Black with Clear Wax whilst the frames and handles in the Artisan Metallic Creme.  

What you will need: (sized subject to the type of project)

Carbon Black Premium Chalk Paint
Pewter Metallic Creme 

Artisan Clear wax
Staalmeester Series 2020 Pro hybrid size 18
Series 1060 Spalter brush
Series 3600 Natural bristle brush


Method 

Painting:  
Paint and feather 1 coat of Carbon Black Premium Chalk Paint in all directions. With your size 18 brush, make sure you load the paint on generously, then spread, take the pressure of your paint brush and feather and flatten the brush strokes while wet. Apply 1-2 coats until you achieve full coverage. 

Once dry lightly sand any unnatural textures using 240 grit sandpaper until you are happy with the level of texture on it, note: when you sand Carbon Black it will scuff to light grey colour, this will disappear once you apply your wax. 
Waxing:
In sections with your Staalmeester natural bristle brush, apply the Artisan Clear wax brushing in all directions, lightly wipe away the excess wax with a lint-free rag as you go. Ensuring you only wax the areas that will remain black, don't wax the areas in which you plan to highlight in Pewter as the metallic creme will need to be applied straight onto the raw (unwaxed) premium chalk paint. 

Metallic Creme:
Using your Spalter brush, pick up your Pewter Metallic Creme and brush out on your chosen areas (over the carbon black) where you would like to enhance it with Pewter, as your applying take the pressure off your brush to feather and blend any visible brushstrokes for a more flawless finish.
Once dry, apply your second coat of Pewter Metallic Creme to your selected areas.
 
TIP: 
Spalter brushes are designed to work in with our Metallic Alchemy range and are available in different sizes to allow you to create beautiful, flawless metallic finishes.

You can also apply this method to any handles or hardware you want to update.