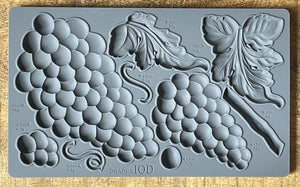 The Grapes Decor Mould™ is your new DIY best friend! The IOD Moulds are made from food safe materials (do not use the same set for food and crafts), and can be used to transform and create baked goods, furniture, soaps, jewelry, and just about anything you can think up. Pair with Air Dry Clay or Resin for your furniture and decor, or try your own medium. All moulds come with the IOD exclusive 'Micro-Rim' which allows your castings to be released with a nice clean edge and the moulds can be used time and time again.  Clean up is a breeze with a mild soap and water.
Abundance, harvest, and wine-making merriment comes to mind with this new mould design. Joining our permanent collection of products, these bunches of plump grapes along with curling vines and leaves work well on furniture and decor pieces or you can pair it with the IOD Grapes Stamp. 
Easily bring the "Old World" charm or a wine-country motif into your decor with the IOD Grapes Mould.