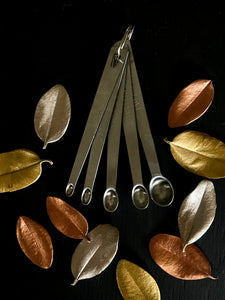 Not your standard measuring spoons...
A mini set of measuring spoons ideal for measuring micro small amounts of Artisan Metallic concentrates.

Artisan Metallic Alchemy Recipes are often shared referencing these measurements from specific measuring spoons. Measurements of a drop, a smidge, a pinch, a dash and a tad. The smallest measurement is 1/64 of a tsp which give you an idea of how small that is.
An essential tool if you're looking to follow some Artisan Metallic Alchemy Recipes, or referencing the Metallic Alchemy Recipe Booklet. 

Measure and record your metallic mixes with ease with a set of these measuring spoons for your Metallic Concentrate.