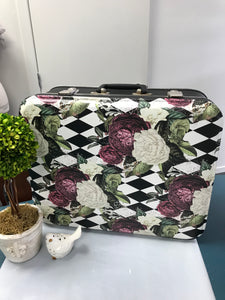 ***Item will need to be picked up***
This suitcase has been upcycled from an old orange 70's suitcase to something that can now have pride of place or can even be taken away on a weekend trip. It would be the perfect suitcase to store craft items or keep sakes in. 
Painted in The Artisan Companies Velvet Luxe Carbon Black paint, details finished with The Artisan Companies Metro Silver Glide and the image is Harlequin Roses from Grace on Design.  We stock all of these items so you could re create this look. 
Size 
Length - 50cm
Width  - 20cm
Height  - 40cm