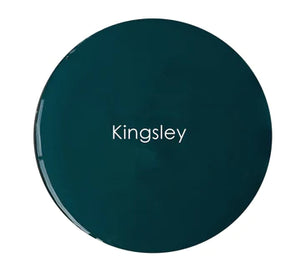 401: Kingsley: a luxurious, deep jewel toned Artisan colour, uniquely crafted and balanced with 8 different pigments creating a beautiful complex depth and a sophisticated range of subtle nuances in both blue and green hues. A unique Artisan crafted Winter Limited Edition colour full of mood and life.
A highly reactive crafted colour that will adjust to all types of lighting and needs to be seen in person and lived amongst to truly appreciate its beautiful complexities. A complex "Living" colour that's best described in the eye of the beholder. 

Pairs well with both silver and golds and will sit and adjust as a striking blue green or green blue depending on lighting and it's environment.
Limited in numbers, available for 3 months from 1st July or until sold out.